Antama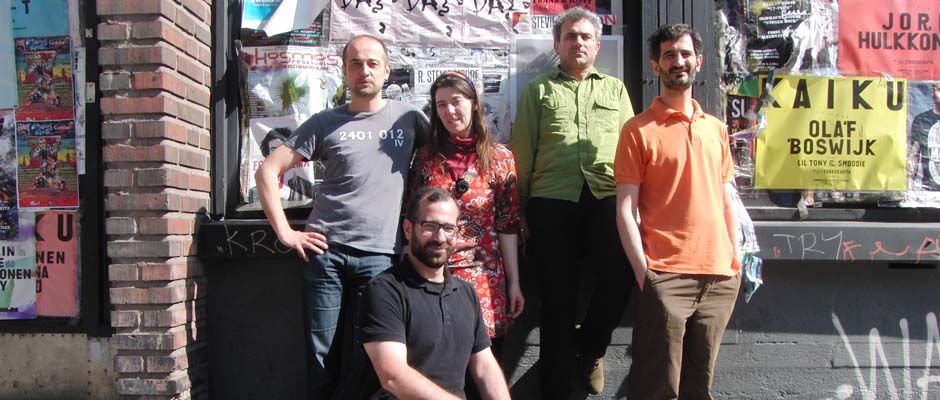 Introduction
Antama plays mainly rhythm music of Greek origin and the basis of repertoire is rebetika, urban street music from Greece. Group also plays Greek folk music from the past and present, and modern rock influenced tunes. Everything from touching ballads to fierce dianysian jams!

Antama was formed in march 2012, when the musicians decided to join up and form a group dedicated to Greek music. Due intensive touring, the band got cult following in no time among Greeks living in Helsinki and Greek music aficionados. Antama celebrated 1-year birthday in packed Culture centre Caisa, and did total of 25 gigs in 2013.

Members of Antama come from different musical backrounds, but all share the same passion for Greek music, creating unique Antama-sound.
Evangelos Velentzas (Greece) - bouzouki, baglamas, vocals
Ilias Papailias (Greece) - bouzouki, baglamas, lauto, vocals
Meri-Sofia Lakopoulos - violin, hardanger fiddle, kemenche, vocals
Antti Kaski - guitar
Vasilis Katopodis (Greece) - bass, vocals
Technical Information
Antama can perform acustically or with amplification, and if necessary, the group can provide amplifiers. Smaller line-ups from duo and up are also possible, if requested. Antama sometimes grows from quintet, featuring guest artists such as Yonca and Murat Ermutlu from Nefes, Joska from Jätkäjätkät and laouto and lyra virtuoso Mihalis Syskakis.