Helsinki Yiddish Cabaret (us/lv/fi) feat. Värttinä Vocals
Album release concert
A group of musicians from New York, Berlin and Helsinki performs Yiddish revue songs by Helsinki-born Jac Weinstein (1883-1976). The songs offer a fascinating glimpse into the history of Helsinki's Jewish community. The repertoire includes operetta songs, ballads and couplets that portray Jewish life in a humorous way, including good times and bad.
Most of Weinstein's songs were originally performed as part of Yiddish-language revues and musical plays in the 1920s and '30s, but songs from World War II to the early '60s are also included. Weinstein wrote his lyrics to popular tunes of the day as well as folk songs and klezmer melodies. New melodies have been written for some of the songs.
The musical director of the Helsinki Yiddish Cabaret concert is New York clarinettist Michael Winograd, who also did the arrangements.
Lorin Sklamberg, vocals
Michael Winograd, clarinet
Rob Schwimmer, piano & theremin
Sasha Lurje, vocals
Ilkka Heinonen, bass
Antti Korhola, violin

Värttinä Vocals - Susan Aho, Mari Kaasinen ja Karoliina Kantelinen
From research project to recording
The Helsinki Yiddish Cabaret concert is part of a Kone Foundation-funded project called "Let the whole world be a homeland! Diasporas in the music industry and their Finnish connections", which is studying Finnish Jewish and Roma musicians.
Jac Weinstein's lyrics were found in 2005 when docent Simo Muir, PhD, carried out an inventory of archives found in a cellar owned by the Jewish community in Helsinki.
Finally, in October 2021, after several years of research, a collection of Weinstein's songs was recorded at the Kallio-Kuninkala studio in Järvenpää.
This took place in partnership with the Global Music department of the Sibelius Academy at the University of the Arts Helsinki and the Finnish Yiddish association Idishe vort. The CD is produced by the Global Music Centre.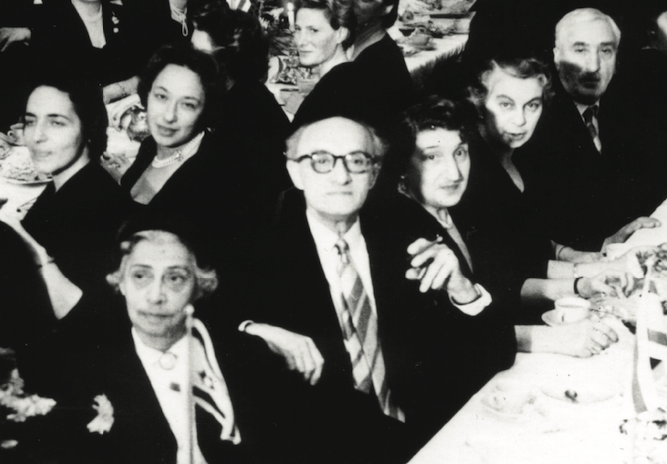 Jac Weinstein - photo: Suomen juutalaisten valokuvakokoelma Kansallisarkisto