Indreni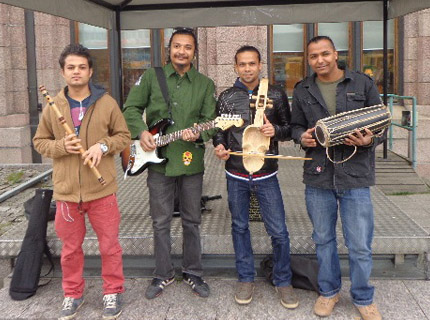 Home Town
Vantaa
Introduction
Indreni plays mainly Nepalese folk music, but also features Nepalese pop music songs. Kishan Gaine is Nepalese musician from Gandharba caste of traditional, itinerant musicians, and has been living in Finland since 2011. Kishan was taught by his family and he has been playing traditional Nepalese music since his childhood. Kishan's instruments are sarangi which is bowed, short-necked string instrument and Nepalese drum madal.
In Finland Kishan formed Indreni which features sarangi and madal player Manoj Gandhari and flutish Hari Sapkota. Group sometimes features Nepalese singer Binita Lamichane, a guitarist and a dancer.
The group has performed in Helsinki in various venues and in Sun festival in Tikkurila.
Kishan occasionally performs with African musicians playing crossover between African and Nepalese rhythms and tunes.
Kishan also provides Nepalese music and instrument workshops.
Technical Information
Concert or workshop can be tailored according to the occasion. Depending on the venue pa-system is required, in smaller venues the group can perform acustically.
Kishan Gaine (Nepal) - sarangi, madal
Manoj Gandhari (Nepal) - sarangi, madal
Hari Sapkota (Nepal) - flute
Binita Lamichhane (Nepal) - vocals
Contact
Kishan Gaine
tel. +358 45 15 98 444