Kehro Bossa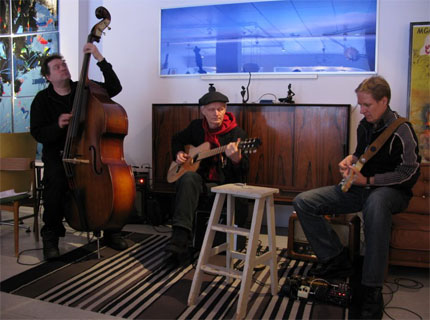 Home Town
Helsinki
Introduction
Instrumental bossa nova / lounge / down-tempo music from Finnish back woods. Sunny and easy listening atmosphere of the Kehro bossa is perfect for restaurants, cafes and lounges, but also for client events, business parties, and even family/garden parties etc.
Vesa Kaartinen - acustic guitar
Ville Toikka - electric guitar
Markku Kyyhkynen - upright bass
+ Ad Hoc mucisians every now and then:
Kalle Outinen - perc.
Antti Snellman - sax
Technical Information
The only requirement for performance is one power outlet. Just acoustic act is also possible, but only in small rooms.
Contact
Kehro Bossa
Tel. +358 (0)44 052 1954