Ndioba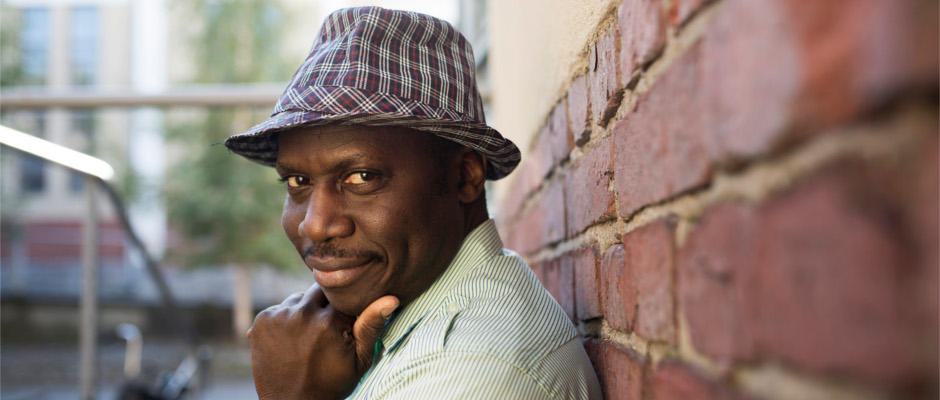 Introduction
Bass Virtuoso, songwriter, multi-instrumentalist Ndioba was born and raised in Senegal, Africa. He grew up in a musical environment, and was exposed to different styles, for example mbalax, afrobeat, hip-hop, latin, jazz, rock etc. In the end of nineties, he studied in Dakar's conservatory. After experimenting the afro music scene in Paris, he become familiar with it.
In 1992 finnish guitar player Hasse Walli invited Ndioba to play with his modern Mbalax band "Hasse Walli and Asamaan". Two songs co-written by Ndioba, Bamba and Thiptou from the album "Teranga", became nine in the european charts. After such a great experience he decided to stay in Finland for new experiences and lot of collaborations with musicians such as Piirpauke, Aika Kone, Sami Saari, Tino Sing, Irina, Nicole Willis, Jimi Tenor, Greg Overton, Charles Edward Salter, Sany Dier, Jimmy Lowson, Aki Sirkesalo, Good People Big Band, The Higher Ground Gospel Project. He also recorded with a guitarist Jason Carter and world music bands Zero Drama, Stilimba.
In 2006, he started working on his own material. 2012, his solo album "Don't Go" featured Sofia Rubina came out.

NDIOBA has been working with lot of worldwide artist, for example:
Tony Momrelle (incognito) Freddy Moffett (Kora Green, Macy Gray, Beyonce), Manu Guerrero (Celine Dion), Fela Kuti Band, Kenny Garrett (Miles Davis, Marcus Miller, Herbie Hancock), Kiala & Udoh (Fela Kuti Band), Tony Allen, Villu Veski, Sofia Rubina, Tiit Kikas, Raul Vaigla, Guglielmo Pagnozzi.

In Senegal:
Youssou Ndour warm up band with the Tabala group (singer As Bara), Dial Mbaye, Lamine Maiga, Yoro Ndiaye, Diogal Sakho, Amy Cole Dieng, Falou Dieng, Soda Mama, Number One Band.
Right now he's working on his new single. New CD will be available in 2018.

Ndioba Gueye (Senegal) - bass, vocals
Valtteri Bruun - guitar, vocals
Chico Matada (Mozambique) - drums
Luiz Orlando Sa do Carmo (Brazil) - percussions
Technical Information
The Line up of the performance and the technical needs should be discussed case-by-case. Stage plan.