Nefes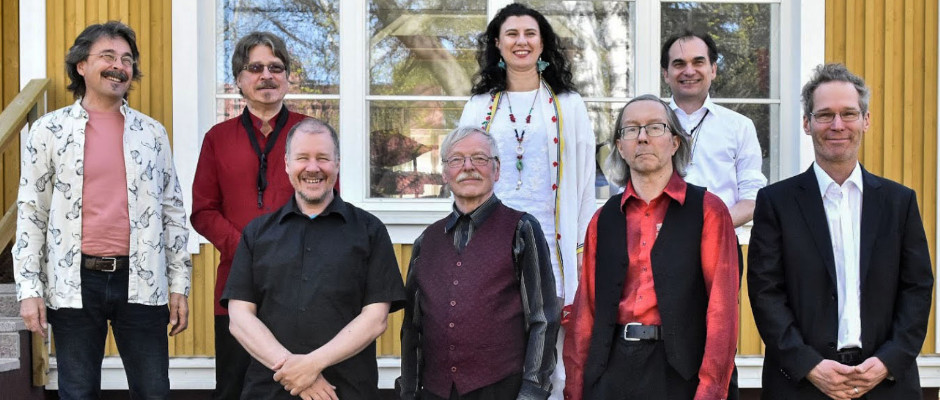 Introduction
Nefes plays almost all kinds of Turkish music: classical, folk, sufi music, music of the Turkish Roma, music for belly dance etc.

Nefes was born as a small jam ensemble in 1990. The group consists of members born in Turkey, Finland and even New Zealand! The group has become a sort of comprehensive school for Turkish music in Finland. Some of the members have traveled to Turkey to learn their instruments from the Turkish masters. They have performed widely in many different occasions, e.g. at Kaustinen Folk Music Festival (many times!), Helsinki Festival and many refugee events in Turku, Helsinki and Karjaa. The band celebrated it's fifth and tenth anniversary by giving concerts at Savoy Theatre. The band has performed together with the famous whirling dervishes from Istanbul at Etnosoi! Festival in 1997. The same year they published their first cassette Fasl-i Nefes. The band was nominated as the folk music band of the year by magazine Uusi Kansanmusiikki in 1998, theme year of immigrant music and dance in Finland. Nefes performs regularly around Finland. Many of the members also teach their own instruments.

First cd Hatira - Keepsake (GMCD 0818) was published at Etnosoi! Festival in 2008. Second cd Kehribar - Meripihka (GMCD 1324) was published in May 2013. Third album Damla (GMCD 1832) was published in December 2018 as a digital download.
Panu Helke - Flute
Kai Olander - ney-flute, flute, sax
John Millar (New Zealand) - ney-flute, clarinet
Pekka Nylund - ud
Murat Ermutlu (Turkey) - bendir, def, darbuka
Christer Hackman - bendir, darbuka
Leif Karlson - kanun
Yonca Ermutlu (Turkey) - vocals
Technical Information
Nefes is very flexible ensemble, it can perform in any forms from duo to full ensemble. So the price is flexible too! The group is completely acoustic and can perform without amplification especially in smaller venues.