Nordic Choro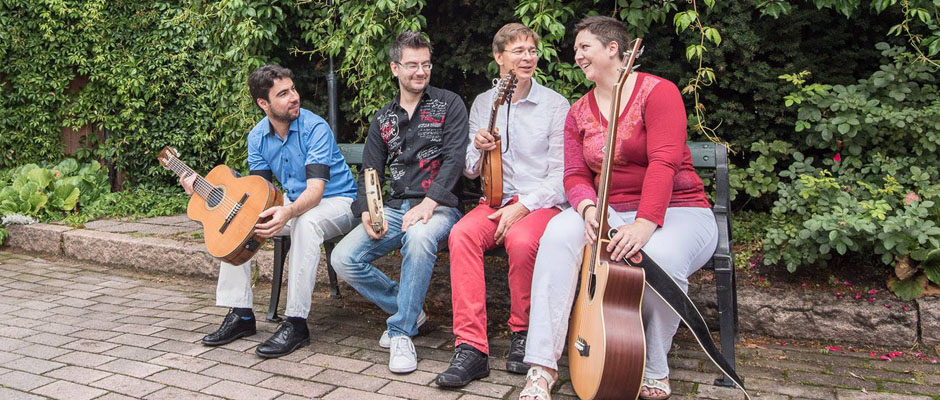 Introduction
Nordic Choro is a Finnish-Brazilian group, which was founded in the autumn of 2008. The group started as a trio and the debut album was released in 2010. The repertoire of the first album consisted mainly of contemporary compositions by Jarmo Romppanen. At the moment Nordic Choro is concentrating on Nordic classics, on popular Scandinavian music of the 20th century. The new repertoire includes for example compositions by Kaj Chydenius, Lasse Dahlqvist, Erik Lindström, Lasse Mårtenson, Sig Olin, Evert Taube and Erna Tauro. The main idea is to arrange these famous songs and change them into Brazilian choro style, including syncopated rhythms and variations on melody, dialogue between the different players and accompaniment based on samba clave patterns. The recordings of the second album have been started in december of 2014 and the album will be released in 2015.
Fabio de Oliveira (Brazil) - 7-stringed guitar
Ricardo Padilla - pandeiro and additional percussion
Arja Paju - bass guitar
Jarmo Romppanen - mandolin

The guest musician:
Petri Puolitaival - flute and alto saxophone
The producer of the second album: Peter Engberg
Technical Information
Nordic Choro plays famous Scandinavian songs arranged and changed into Brazilian choro style for a concert of 45 minutes. Longer performances (2x45 minutes) are possible if original Brazilian cover songs are included to the repertoire. The ensemble does´t have own PA equipment. It can perform also acoustically.