Sonic Poetry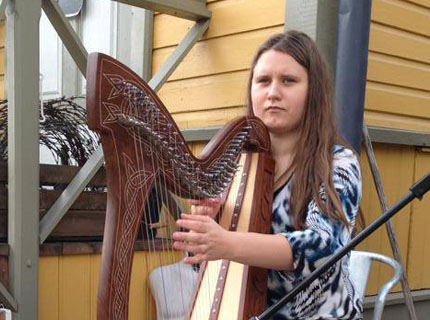 Home Town
Äänekoski
Introduction
"My playing is always an improvisation influenced with different cultures and music styles. My violin playing is influenced by arabic, Indian and klezmer styles; Finnish, ingrian and also resonating tones of Indian music inspire my kantele playing. In my piano music, classical influences meet celtic music. I don't compose in the western sense, my music is born when I'm playing it."
Past performances: Hansapiha (medieval culture happening, Jyväskylä, 2013), Kantele competition 2013 in Tampere, Folklandia 2013, Musiikkia ja runoutta yhdistävät monitaiteelliset esitykset (Suolahtisali, Jyväskylä Kirjailijatalo) Jyväskylän Häämessut 2014.

Olga Kolari (Russia/Finland): piano, viulu. viola, harp, kantele, psalter, cura saz, synthesizers, sound works and sound design.

Youtube
Soundcloud
Facebook
Aospalvelut.net
Technical Information
Sonic Poetry can do an acoustic performance, depending venue and instruments. Without amplification, kantele and psalter are suited better with smaller spaces, louder instruments like violin, harp and saz work with larger spaces.
Contact
Olga Kolari
44170 Hietama (Äänekoski)
tel. +358 (0)40 05 51 142