Vallila Klezmorim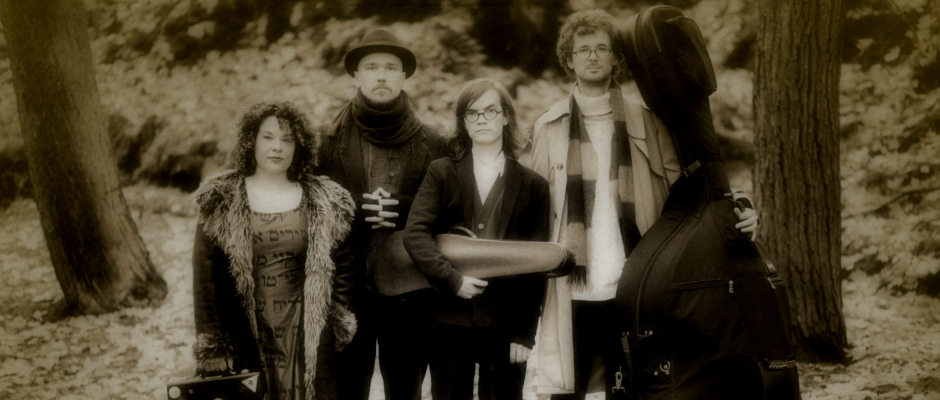 Introduction
Vallila Klezmorim is made up by a passionated Italian clarinetist and three Finnish musicians (violin, accordion and double bass) sharing common interest and joy for playing Klezmer music, embracing a traditional approach. The four musicians first met at the monthly Helsinki Klezmer Jam Sessions and felt in love with each other's sound and musicality. Digging through old recordings of Eastern-European Klezmer musicians, they investigate aiming to imitate the authentic sound and expressivity of the original music style. Their repertoire is made up by traditional Klezmer tunes, Yiddish folk songs and Hasidic nigunim.
Valeria Conte (Italy) - clarinet, vocal
Antti Korhola (Finland) - violin
Juska Ojajärvi (Finland) - accordion
Philip Holm (Finland) - double bass
Technical Information
The band can perform concerts of any length and for any occasion (listening, dance, weddings, theater accompaniment, etc.) and can perform acoustically as well as amplified. If acoustically, depending on the venue and occasion, it would preferably be an instrumental concert. The band can also lead Klezmer instrumental workshops, accompany and instruct on Klezmer dances as well as give lectures about Klezmer music style.
Technical rider for eventual amplification:
mixer and speakers (depending on the venue 1 or 2 monitors)
VOCAL: 1 dynamic mic
CLARINET: 1 XLR entrance
VIOLIN: 1 XLR entrance
ACCORDION: 2 condenser mic or 2 dynamics + 2 mic stands + 1 chair without armrest
DOUBLE BASS: 1 dynamic mic