Wabanag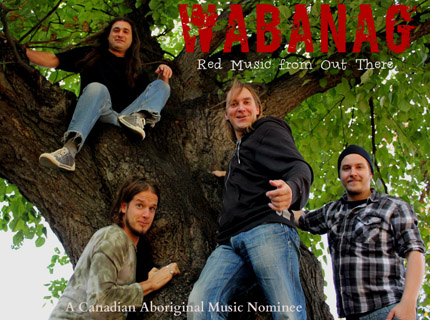 Home Town
Helsinki
Introduction
"Wabanag's music is best described as a mix of traditional Native American/Canadian Aboriginal music and contemporary styles. The onstage storytelling skills of Nagwetch are truly mesmerizing, as his tales awaken the imagination. Experiencing the band on stage is highly recommended, and won't soon be forgotten! ". Mike KEMPF, Finnish - Canadian Society
WABANAG, a nominee of the Canadian Aboriginal Music Awards 2005 for the album ULODI, blends traditional Native American music and contemporary styles. By mixing blues with mesmerizing vocals and percussive grooves drawn upon a deeply-rooted spiritual essence, they bring the ancient and deep into live. Their powerful music is inspired by the Wabanaki heritage of Québécois Nagwetch ("Little Sun"), a Metis of Gaspésie." Music4You​​

When asked about the background for his music, Nagwetch answers that the inspiration comes from his people, the Wabanaki, a hoop of First Nations that live on the East Coast of Canada and the US. "While our people have been in contact with Europeans since a very long time, they have kept a clear sense of identity and a strong spiritual attitude towards life and nature that permeates into and through the language and the music. " He also points out that Native American music is in a period of unprecedented development and comes today in many different forms, including rock, pop, rap, hip-hop, reggae. "Though the music continues to function even thrive in the traditions, young Native Americans listen to contemporary styles just like everybody else. I grew up surrounded by music of all kinds. Wabanag is an attempt to mix traditional content with contemporary styles. Native American music has, in fact, been as influential as African music on the development of blues-rock, which is not widely recognized. Many established artists of the 1970s who have been influential on the development of blues-rock, such as Jimi Hendrix, Robbie Robertson, Rita Coolidge, Richie Havens, Neil Young, have Native American roots. Buffy Sainte Marie was the first one to be signed by a major back in 1964. That music style is often called Contemporary Native American Music. If there is a genre to which Wabanag belongs, it could be this one."

Over the years Wabanag have cut two LPs. Ulodi (Happiness) came out in 2004. It resulted in a unique creation, difficult to reproduce on stage, unless a large number of musicians were available. The album brought a nomination to the band in the Best International Album category of the Canadian Aboriginal Music Awards. The nomination came as a surprise as the band had not toured Canada. The new album Bemia (Walk In Beauty) came out in 2013. The mood is slightly more blues-rock. However, the so-called shamanic or ethno-tribal groove is all-pervasive. The album is an invitation to walk in beauty, a Native American and Wabanaki way to say that the purpose of life is to learn to live in harmony with all our relations.
Nagwetch-Little Sun, a Wabanaki Metis from Gaspesia Peninsula, is a Canadian Aboriginal artist, singer and song-writer, who spent his childhood in Mi'kmaq and Cree/Inuit territories and grew up in Montreal. At an early age he started writing songs and learning guitar on his own. Surrounded by music his whole life, Nagwetch learned his craft all over, from producing music in Quebec to busking on the streets of European cities to learning and eventually teaching African drums in Paris. At the age of 18 he had his first band together with his brother and sister. After experiencing various genres, Nagwetch decided to walk his own path by researching and creating music that reached into his Canadian Aboriginal roots. WABANAG came into form from both that experience and the meeting with young Finnish musicians interested by his musical ideas. So far the main members of the band have been together for almost 15 years. They have a loyal fan base in Finland.

Alongside with the music, Nagwetch has also a passion for nature and the traditional use of herbs and plants. Co-founder of Terre des Jeunes , an international movement of youth initiatives for the environment with headquarters in Montreal, Nagwetch is sensitive to environmental issues and to the future of the
commons.
Nagwetch (Canada) - lead vocals, flutes, frame drums, guitars​
Ivo Baric - bass, back vocals
Juha Jokiranta - guitars, back vocals
Jussi Nikula - drums, percussion, back vocals
​
Riel Huorani (Canada) - special guest on percussion
www.wabanag.com
Facebook
Bandcamp
Youtube
Technical Information
Tour crew: 4 to 6 musicians + 1 technician
Back-lines & Technical requirements: similar to blues or rock band
Contact
Eric E. Van Monckhoven
Agent
tel. +358 440526664