Zamburu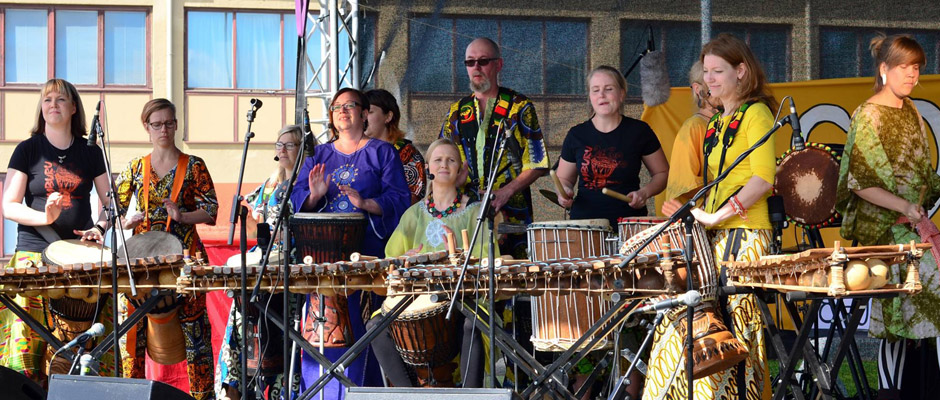 Introduction
Zamburu is a drum orchestra that was formed in 1992. Their repertory consists of West African rhythms, songs and dances. All the instruments are traditional African instruments such as djembe, saba drums, dundun and balafon. Zamburu has performed in many clubs and festivals all around Finland and also abroad, for example at Down By The Laituri, Pori Folk, Pori Jazz, Työväen Musiikkitapahtuma, Folklandia and Fesmir Dakar (Senegal). They have appeared also on TV and radio. The group released their first album Waaw in 2010 and second album Dunya in 2019.
Satu Harjunen - djembe, balafon
Tiina Hallivuori - djembe
Marja Koskela - djembe, balafon, dundun
Asta Koskinen - djembe, dance, balafon, dundun
Sari Neuvonen - djembe, dance, dundun
Miia Hietapakka – djembe, dundun
Anna Pentikäinen - djembe, dundun
Olli Penttilä - djembe, dundun, bass
Aino Knihti - djembe, balafon, kora, dance
Noora Kyynäräinen – djembe, balafon
Johanna Teinilä - djembe, balafon, dance, dundun
Technical Information
Zamburu's show can last from 30 minutes to one hour. On a small venue they can perform acoustically, but on bigger venues they need microphones at least for the solo singers and for the four balafons.