Main photo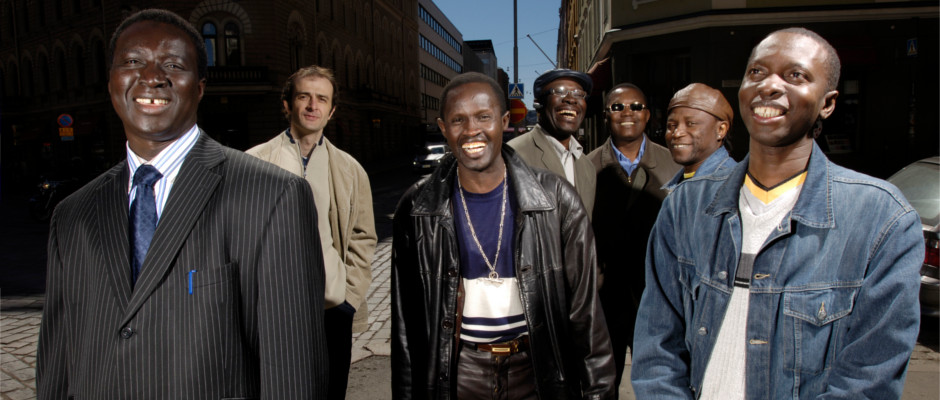 Photographer
Ari Heinonen
Introduction
The indigenous Senegalese pop music called mbalax was well known in Finland long before Youssou Ndour and Baaba Maal made it world famous. This is especially due to the enthusiastic work of the Finnish musicians Sakari Kukko and Hasse Walli, who both visited Senegal decades ago and wanted everyone to hear the music that inspired them tremendously. Hasse Walli visited Senegal several times, and his life with and around Senegalese music continues even today. In the end of the 80's and the beginning of the 90's he organized two remarkable Asamaan line ups with Senegalese musicians. When Asamaan - at that time - became history, some of the musicians stayed in Finland and formed a new band Galaxy, in 1992 to continue the tradition of the best quality mbalax.
Pape Sarr (Senegal) - bass ja sabar-drums
Yamar Thiam (Senegal) - tama (talking drum), vocals and sabar-drums
Rane Diallo (Senegal) - vocals and saxophone
Libasse Sall (Senegal) - guitar, vocals and sabar-drums
Ousseynou Mbaye (Senegal) - Drums, sabar-drums and vocals
Goran Mrdja - keyboards
Ismaila Sane (Senegal) - sabar- and djembe-drums and vocals
Bintou Korhonen (Gambia) - dance
Techical information
Amplification is needed. The group can play acustic traditional rhythms smaller venues.