Main photo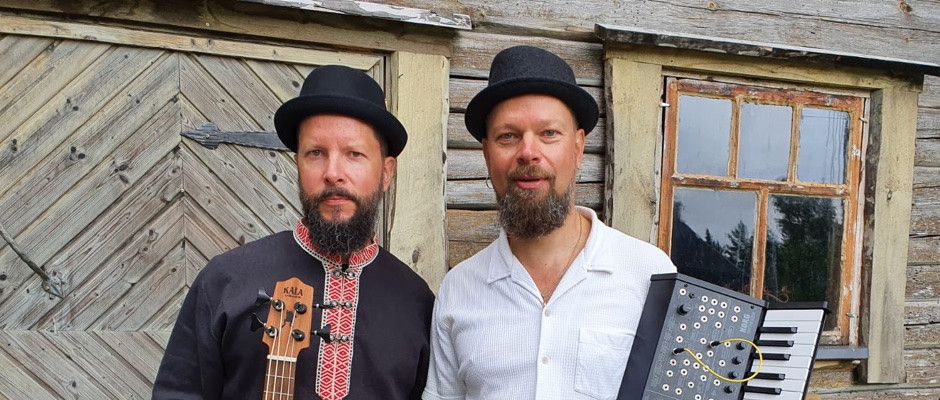 Introduction
Loimolan Voima writes contemporary Karelian folk music with roots embedded deep in the soil of the Border Karelian region. The two man band is composed of brothers Mika "Miša" Saatsi and Niko "Miikkula" Saatsi.
Miša is the bands' composer and Miikkula writes their lyrics in Karelian. The Saatsi brothers descend from the Karelian commune of Suistamo and are on a mission to sing the endangered Karelian language into public notice. In Finland there are 11 000 people who speak Karelian as their first language.
Loimolan Voima released their award winning debut album Ruttomužikan kyynäl in 2020. Their music draws inspiration from their rich Karelian heritage while looking ahead into the future.
Concerts of Loimolan Voima are unique experiences combining the flow of music with Karelian story telling. The bands' acoustic sound is accompanied by syntesizers and an old drum machine. A looper also has a role to play in their live arrangements. All these more modern devices fade at times to give space for entirely acoustic moments.
Mika "Miša" Saatsi - compositions, vocals, ukulele, guitar, domra, looper, synthesizers, melodica, percussions
Niko "Miikku" Saatsi -  lyrics, ukubass, vocals, percussions, melodica
Technical information
Loimolan Voima performs in small and medium-sized venues with its own sound reproduction and with air acoustics. Technical rider: loimolanvoima [at] gmail.com