Main photo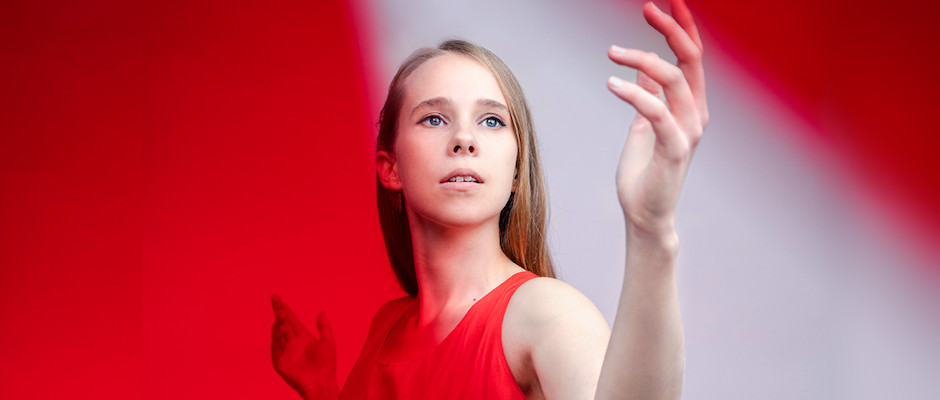 Photographer
Meeri Koutaniemi
Introduction
Vilma Talvitie is a Finnish singer, composer, "PianoBodyPercussionist" and multi-instrumentalist, who creates musical bridges between folk and pop. In her songs, acoustic instruments (piano, accordion, violin, harmonium) merge naturally with electro beats and hookin pop melodies. Talvitie sings about the dark sides of the human minds with mad life force and with a bright voice, influenced by Finno-Ugric and East-European folk singing styles.

Talvitie keeps lighting up the stages in Finland and abroad, with her folk fusion duo Vilma & Sami, and folk/pop band Valma & Varsinaiset, while preparing her folk/pop- solo album, which will be released in the spring 2023. The first single of her debut album, "Katsokaa kuinka katoan" was released on 1st of April 2022. Talvitie has invented unique way of performance - PianoBodyPercussion, in which she plays simultaneously piano, body percussions, voice, and the parts of the piano as percussive elements.

In a solo concert singer-songwriter Vilma Talvitie plays her body, dances with a grand piano, and sings her Finnish songs, influenced by traditional Finnish and Nordic folk music.
Vilma Talvitie - voice, piano, accordion, "PianoBodyPercussion"
Technical Information
For a solo concert, the grand piano is the best option (if not possible, acoustic piano is possible too). From the technical point of view, the best vocal mike would be a wireless vocal mike, since the concert includes a lot of movement. The body percussion works also acoustically, but at the bigger stage it's necessary to be amplified. "PianoBodyPercusion" is an audiovisual concept, visuality has a very important dimension in music, and therefore the perfomance works best at the concert halls with quiet audience.